With grand arched windows overlooking the Historic District of Philadelphia, Union Trust will captivate the most discerning guests. This newly renovated facility has become one of Philadelphias chicest event location for weddings, social gatherings, and corporate functions. With its soaring sixty-five foot illuminated engraved ceilings, architecturally accented walls, multiple private rooms, and a breathtaking wraparound mezzanine overlooking the whole site; Union Trust offers an exceptional blend of the old, regal Philadelphia but infused with a new vibrant pulse.
This building is an embodiment of rich Philadelphia history having once served as The Union Trust Company Bank, which was built in 1888. In Finley Caterings constant pursuit of exquisite cuisines and top-notch professionalism, we feel that Union Trust is an ideal addition to make our center city endeavors a perfect trio.
Leading events since America's Bicentennial
Finley Catering Company, established in 1976, has soared to even greater heights than Steve Finley could have ever imagined. As a young boy, Steve took all his cooking skills from his mother, pursued a culinary degree and worked hard to realize the great American success story.
With over 40 years of experience, Finley Catering will assure you that all of the intricate details of your special day will be combined with extraordinary food, superior service within an elegant atmosphere to create the reception of your dreams.
Be it an intimate ceremony or a grand affair, the weddings we create are marked by our striking settings, world- class service and thoughtful, indulgent details. We work personally with you to invent the reception that you have envisioned, and to bring those dreams to a reality.
Since you have entrusted your special day to Finley Catering, the cuisine will be unparalleled, the service impeccable, and the memories unforgettable!
See for yourself what we're all about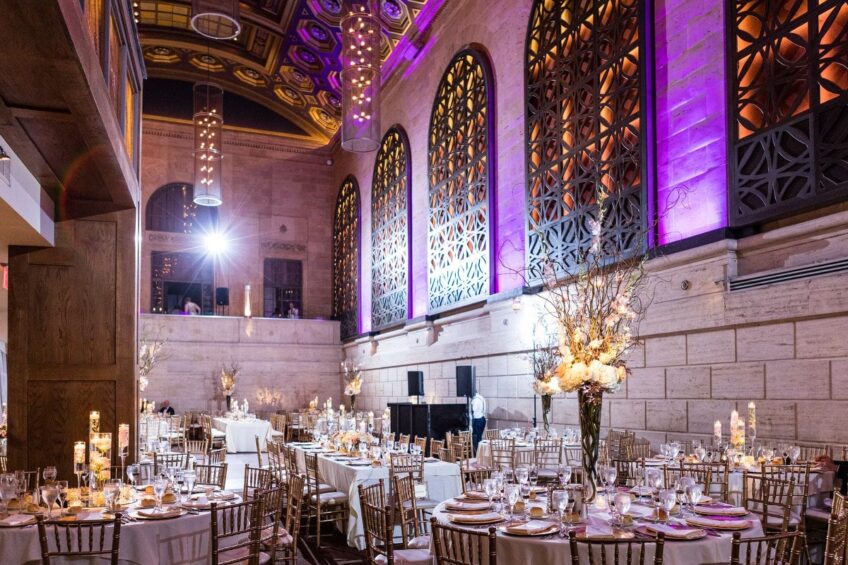 From the first moment our family engaged with Michelle Finley to the end of the wedding event, it was a fabulous experience. Just a beautiful venue, with outstanding food and service. Michelle and the Union Trust team (Dave, our host during the rehearsal and wedding was so helpful) were a pleasure to work with, and we received many compliments from our friends and family who attended. The attention given in the planning, and during the wedding by the Finley Catering and Union Trust staff was truly exceptional, and well beyond our exceptions.For a perfect wedding, we highly recommend Finley Catering and the Union Trust!- Bob via
Michelle and Thomas made our wedding a dream come true! From the very beginning they made everything so easy, and eliminated the stress of wedding planning. Every person who attended our wedding commented on how delicious the food was, and how gorgeous the venue was. I cannot thank Michelle and Thomas enough for making our day so incredibly special. I wish we could go back and do it all over again!! Union Trust is a breathtaking venue, and Finley Catering will make your day everything you want!- Sarah via
We recently had our wedding at Union Trust on 8/18/2017. I could not have picked a better venue! Everything from our first meeting to the day of the wedding everything went smoothly, Thomas and Stacey were so easy to work with. We are still getting compliments from our guest on every aspect of our day. We couldn't of done it without the entire staff at Union Trust, who were extremely kind and a pleasure to be around. Thank you for making our day one we will never forget – Michelle via